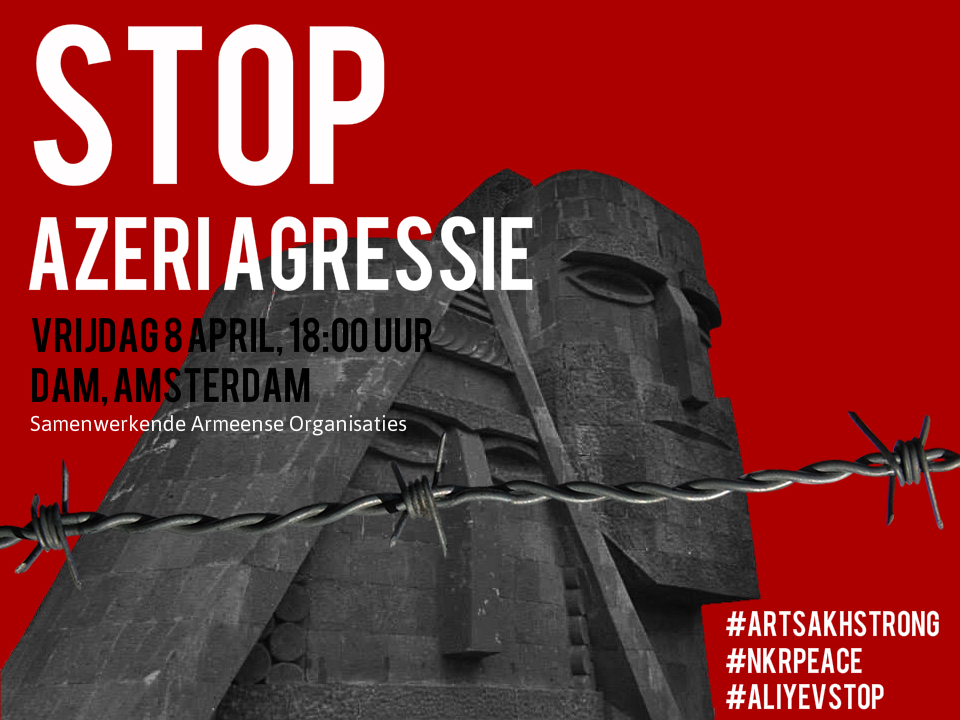 Samenwerkende Armeense Organisaties
Email: ag100jaar@gmail.com
Vrijdag 8 april 2016 om 18.00 uur
Demonstratie
Protest tegen de voortdurende agressie van Azerbeidzjan
Plaats: Dam – Amsterdam (Manifestatie)
Datum: 8 april 2016
Tijd: 18.00 tot 20.00 uur
Betreft: Demonstratie van de Armeense gemeenschap van Nederland tegen de voortdurende agressie van Azerbeidzjan tegen Nagorno Karabach. Op vrijdagavond, 1 april 2016, lanceerden Azerbeidzjaanse troepen een substantieel offensief tegen de Republiek van Nagorno-Karabach, dat heeft geleid tot een aantal slachtoffers ook onder de burgerbevolking van de Armeense dorpen waaronder kinderen en bejaarden.
De Samenwerkende Armeense organisaties veroordelen met klem de aanval van de Azerbeidzjaanse strijdkrachten en roepen de Armeniërs van Nederland op om deel te nemen aan deze demonstratie voor de ondersteuning van onze landgenoten in Nagorno-Karabach en om onze stem te laten horen tegen de Azerbeidzjaanse agressie.

Joint Armenian Organisations
Email: ag100jaar@gmail.com
Friday, 8 April 2016 at 6 p.m.
Demonstration
Protest against the continuing aggression of Azerbaijan
Location: Dam square – Amsterdam (Rally)
Date: 8 April 2016
Time: 6 – 8 p.m.
Subject: Demonstration of the Armenian community of the Netherlands against the continuing aggression of Azerbaijan against Nagorno Karabakh. On Friday, 1 April 2016, Azerbaijani troops launched a significant offensive against the Republic of Nagorno-Karabakh, which has caused a number of casualties also among the civilian population of the Armenian villages, including children and the elderly.
Joint Armenian Organisations condemn the attack of the Azerbaijani Armed Forces and call upon the Armenians of the Netherlands to participate in this demonstration for supporting our compatriots in Nagorno-Karabakh and raising our voices against Azerbaijani aggression.

Համագործակցող հոլանդահայ կազմակերպություններ
Էլ. փոստ`
ag100jaar@gmail.com
Ուրբաթ 8 ապրիլի 2016 ժամը 18-ին
Հանրահավաք-ցույց
Բողոքի ցույց Ադրբեջանի շարունակվող ագրեսիայի դեմ
Վայրը` Dam հրապարակ – Ամստերդամ (հանրահավաք)
Թվականը` 8 ապրիլի 2016
Ժամը` 18-ից մինչև 20-ը
Ցույցի նպատակը` Հոլանդահայության բողոքի ցույց Ադրբեջանի շարունակվող ագրեսիայի դեմ ըննդեմ Լեռնային Ղարաբաղի: Ուրբաթ գիշեր, 2016 թվականի ապրիլի 1-ին, ադրբեջանական զորքերը ձեռնաեկել են ծավալուն գրոհ ընդդեմ Լեռնային Ղարաբաղի, որին զոհ են դարձել հայ զինծառայողներ և նույնիսկ հայկական մի քանի գյուղերի խաղաղ բնակչությունը, այդ թվում երեխաներ եւ տարեց մարդիկ:
Համագործակցող Հոլանդահայ Կազմակերպությունները դատապարտում են ադրբեջանական զինված ուժերի հարձակումը եւ կոչ են անում հոլանդահայությանը մասնակցելու այս ցույցին, որպեսզի զորավիգ կանգնենք Ղարաբաղի մեր հայրենակիցներին և մեր բողոքի ձայնը բարձրացնենք ընդդեմ ադրբեջանական ագրեսիայի։