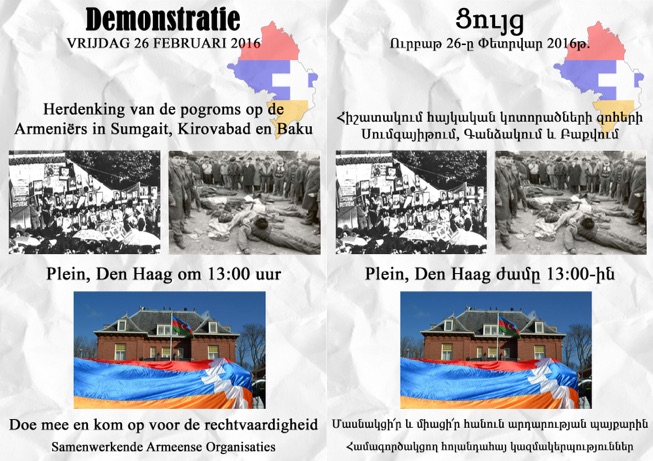 Samenwerkende Armeense Organisaties:
• Federatie Armeense Organisaties Nederland • FAON
• Nederlands Armeens Comité voor Rechtvaardigheid en Democratie • Hay Tad
26 februari 2016 om 13.00 uur
Demonstratie
Herdenking slachtoffers van pogroms op Armeniërs in Azerbeidzjan
Programma
Beginpunt: Plein – Den Haag, bij het gebouw van de Tweede Kamer (Manifestatie)
Protestmars: van het Plein naar de ambassade van Azerbeidzjan
Eindpunt: Andries Bickerweg 6 – 2517 JP Den Haag, tegenover de Ambassade van Azerbeidzjan (protest en afsluiting)
Betreft: Nagedachtenis van de slachtoffers van pogroms op de Armeniërs in o.a. de Azerbeidzjaanse steden Sumgait, Kirovabad en Bakoe in 1988 en 1990 en protest tegen de voortdurende agressie van Azerbeidzjan tegen de Republiek Nagorno Karabach (Artsach) en Armenië.

Joint Armenian Organisations:
• Federation of Armenian Organisations in the Netherlands • FAON
• Dutch Armenian Committee for Justice and Democracy • Hay Tad
26 February 2016 at 1 p.m.
Demonstration
Commemoration of victims of pogroms of Armenians in Azerbaijan
Programme
Starting point: Plein – The Hague, near the Dutch Parliament (Rally)
Protest March: From Plein Square to the Embassy of Azerbaijan
Endpoint: Andries Bickerweg 6 – 2517 JP The Hague, opposite to the Embassy of Azerbaijan (protests and closing)
Subject: Remembrance of the victims of pogroms of Armenians in the Azerbaijani towns Sumgait, Kirovabad and Baku in 1988 and 1990 and to protest against the continuing aggression of Azerbaijan against the Republic of Nagorno Karabakh (Artsakh) and Armenia.

Համագործակցող հոլանդահայ կազմակերպություններ.
• Հոլանդահայ Կազմակերպությունների Ֆեդերացիա • FAON
• Հոլանդիայի Հայ Դատի հանձնախումբ
26 փետրվարի 2016 ժամը 13-ին
Հանրահավաք-ցույց
Ի հիշատակ Ադրբեջանում հայերի կոտորածների զոհերի
Ծրագիրը
Մեկնարկը` Plein Հրապարակ – Հաագա, Հոլանդիայի խորհրդարանի մոտ (հանրահավաք)
Բողոքի քայլարշավ` Plein Հրապարակից դեպի Ադրբեջանի դեսպանատուն
Ավարտը` Andries Bickerweg 6 – Հաագա, Ադրբեջանի դեսպանատան դիմաց (բողոք և ամփոփում)
Ցույցի նպատակը` ադրբեջանական Սումգայիթ, Գանձակ, Բաքու և այլ քաղաքներում 1988, 1990 թթ. տեղի ունեցած հայերի ջարդերի զոհերի ոգեկոչում և բողոք ընդդեմ Ադրբեջանի կողմից Արցախի և Հայաստանի դեմ շարունակվող ագրեսիայի: